Health Screening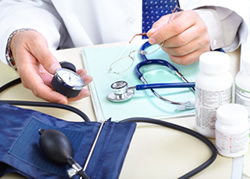 Fastrack's Health Screening is a vital tool in planning for the future
For individuals, it provides peace of mind and identifies the early warning signs of ill-health. For organisations and their executives, it's an opportunity to head-off potential health issues before they have an impact.
Our regular health assessments are invaluable. The latest procedures and examinations can identify the signs of disease or a physiological problem in its earliest stages – in time for treatment to be fully effective.
And thanks to our extensive network of medical professionals, we can provide specialist screening and the highest quality customer care at a much lower cost than our larger competitors.
We offer a range of bespoke packages to meet your requirements, from our Lifestyle assessment which include height and weight check, BMI, cholesterol and posture checks, through to our comprehensive Executive assessment which adds features such as full blood tests, bowel cancer checks and an exercise ECG.
Lifestyle assessments start from as little as £69 and can be conducted at your work premises with minimal disruption. Executive assessments can be arranged, at your convenience, at one of a hundred prestigious venues across the UK.
We pride ourselves on our personal approach and all of our doctors and specialists are assessed fully to ensure they meet our stringent standards of expertise and customer service.
Plus, if any treatment is required, you'll see the same doctor to ensure complete continuity of service and full peace of mind.
To speak to one of our friendly advisors about the health screening options available, call Fastrack now on 0161 925 4803.
To find out more about Fastrack Medical Services please read our PDF brochure.